How CLICK - SHOP - PAY works
Dear online customer,
Welcome to CYMOT's online shop, which will add a new dimension to your CYMOT shopping experience! As stated in our Mission Statement, we strive to be the market leader through QUALITY, SERVICE and SOLUTIONS. This online webshop solution is designed for simplifying your life!
In order for you to place E-Commerce orders you will need to Register once off as a Web customer. Please follow the easy to use link at the top of the site. Please be informed that currently delivery and collection of products is solely available in Namibia (the billing address can be set up internationally).
Please follow the following guidelines to get the maximum benefit from our site.
Step 1: Search for products
There are several ways to search for your product:
•
Using the
Search bar
- please enter the product name, brand or part number and you will instantly see which products are available that match your search criteria
•
Searching by
Category
- browse the products available by category (for example Camping & Outdoor >> Tents), making use of the dropdown menu options under our main product divisions (in the blue header bar)
•
Searching by
Brand
- click on the brand name as displayed on the brand slider at the bottom of the home page or alternatively on individual items - this selection will display all products from the same brand
We furthermore have filters enabled on certain section of www.cymot.com that will enable you to filter your search by pre-defined filter criteria.
We currently have ± 15,000 of our ± 45,000 products listed online. Please send an enquiry to ECommerce@cymot.com should you not be able to find what you are looking for. E-Mail enquiries will be attended to within 4 working hours (Monday - Friday 8am - 5pm).
Step 2: Add to cart
Once you find a product you like to purchase, click 'Add to Cart'.
At the end of your online shopping experience, please navigate to the 'Proceed to Checkout' on the Cart summary icon at the top right of your screen.
Step 3: Select Delivery Method
Please consult the delivery / collection diagram to explain that delivery / collection options available to you.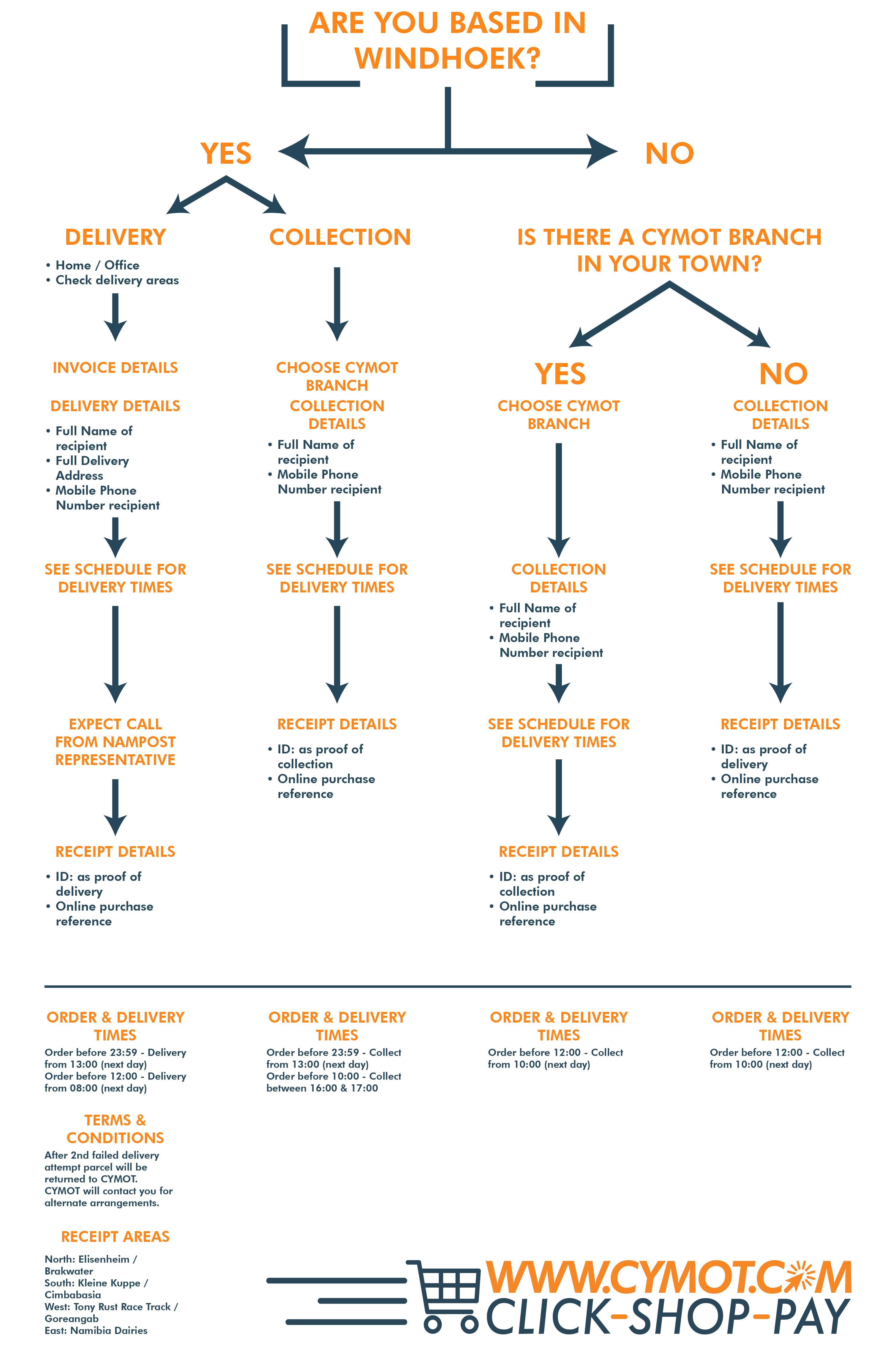 There are two options:
A. Collection in-store (only available in towns where CYMOT has a branch)
•
this option is free of any delivery charge (only available during branch trading hours)
•
Orders placed before 23:59 - collection as from 13:00 (next day)
•
Orders placed before 12:00 - collection as from 8:00 (next day)
CYMOT branches are located in Windhoek, Swakopmund, Walvis Bay, Otjiwarongo, Tsumeb, Oshakati, Rundu, Keetmanshoop, Rosh Pinah, Lüderitz and Grootfontein.
B. Delivery
•
City of
Windhoek: home / office delivery option
All purchases above N$ 1,000.00 will be delivered free of charge. All purchases below this value will attract a N$ 50.00 delivery charge.
o
For all Namibian towns (excluding those towns with a CYMOT branch) with a Nampost presence we offer 48 hour delivery service (via Nampost).
o
For any other location within the borders of Namibia, where neither CYMOT or Nampost has a branch, we will contact you to arrange for transport / delivery options.
All purchases above N$ 1,000.00 will be delivered free of charge. All purchases below this value will attract a N$ 100.00 delivery charge.
Step 4: Confirm Payment
Using a secure FNB VCS Payment Gateway, you will be able to securely pay for your products via your debit or credit card.
Step 5: E-mail confirmation
Once the payment has been confirmed, you will receive an e-mail confirmation with your purchase receipt. If you have selected the in-store pickup option, please print the confirmation mail and present this for identification reasons with any of our sales staff.
If you have any questions or need assistance, please click on the Chat Box icon at the bottom right of your browser. Our helpdesk is available during Namibian standard offices hours. Outside our office hours you can leave a text message and we will get back to you.
Happy shopping!
Your CYMOT team